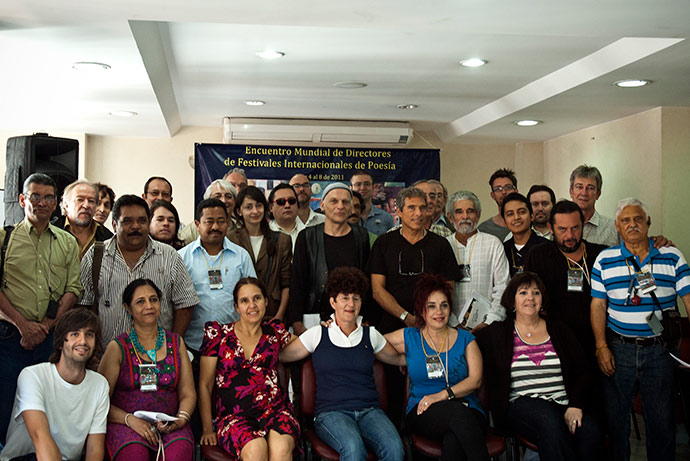 At the 21º Medellin Poetry Festival, directors of 37 Poetry Festivals worldwide have conducted a 5-day meeting on the status of poetry and poetry festivals across the world, analyzing and discussing human concerns and issues regarding difficulties and achievements as part of local organizations promoting poetry in each of our cities and countries.
The first sessions discussed the relationship between poetry and peace and reconstruction of the human spirit, nature reconciliation and recovery, unity and cultural diversity of the peoples, material misery and poetic justice, and actions to take towards the globalization of poetry.
Participants decided to establish the World Poetry Movement, whose main purpose would be to increase cooperation between poetry festivals, thus strengthening our collective voice.
The World Poetry Movement recognizes that:
Poetry provides meaningful insights into the human condition.
Contrary to the idea that languages divide the world, it is precisely the diversity of languages that enriches poetry festivals.
The World Poetry Movement will strengthen each festival in their local and global approach to their challenges and concerns. 
The exceptional connection with the public evidenced in the Medellin Poetry Festival highlights the value of poetry reaching people.
Main objectives of the World Poetry Movement are:
That all poets, poetry initiatives and organizations are invited to join the World Poetry Movement.
To promote the growth of poetry festivals across the world in all their diversity.
To enhance communication between poetry festivals and poetry organizations.
To promote the development of poetry schools and poetry initiatives.
To explore audience development initiatives to broaden publics and access to poetry.
To address issues such as publishing, translation and the general concerns of poets worldwide.