We Are cOLOMBIANS AND PALESTINIANS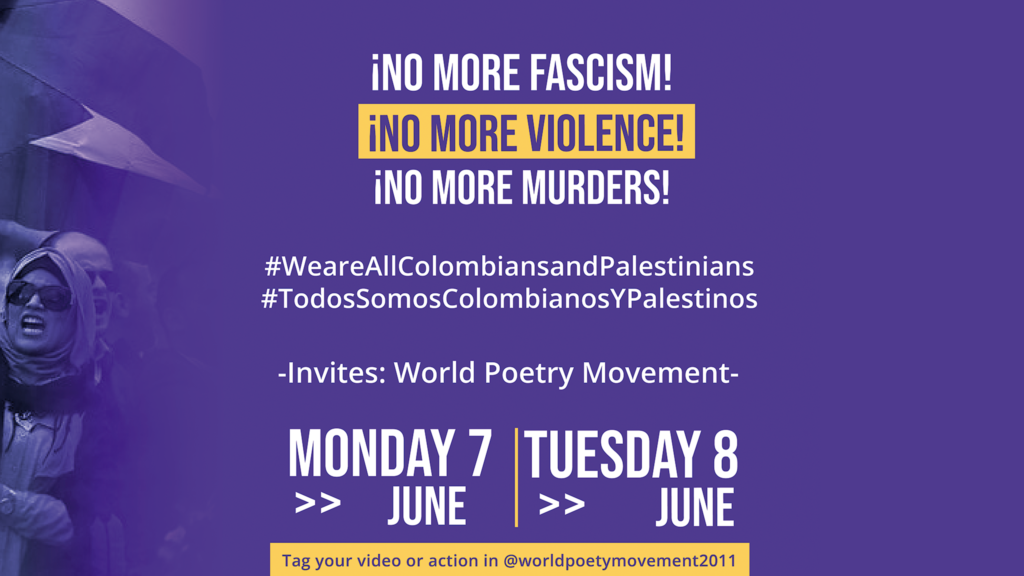 On June 7th and 8th, WPM carried out a global poetic activity in solidarity with the struggle of the peoples of Colombia and Palestine. The Coordination Committee called all the members of the Movement to send a poem or song, with a short greeting.
More than 250 poets and artists of 75 countries sent videos with poems in solidarity with the struggles of the Palestinian and Colombian peoples.
Here are some of them. All the videos can be seen on WPM Youtube Channel.
Ahlam Bsharat, Palestine
She is a Palestinian writer who grew up in a village in Northern Palestine. She completed her Master's Degree in Arabic Literature at An-Najah National University in Nablus. Her books have received many awards. Ismee Alharakee Farasha (translated into the English as Code Name: Butterfly) was included in the IBBY Honor List for 2012. Ismee Alharakee Farasha and Ashjaar lil-Naas al-Ghaa'ibeen (translated into English as Trees for the Absentees) were both runners up for the Etisalat Award For Children's Arabic Literature in 2013. 
Umar Timol, Mauritius
He is the author of three collections of poetry, La Parole Testament, Sang, and Vagabondages, published by Editions l'Harmattan. He also wrote a text for a graphic, Les yeux des autres. He is a founding member of Point barre, a Mauritian cross-disciplinary poetry journal. He was awarded a grant by the Centre National du Livre (CNL) to attend a writers residency at the Festival des Francophonies at Limoges, and another to work on his novel Le monstre.
Hussein Habasch, Kurdistan
Jeton Kelmendi (Albania)
Tobias Burghardt (Alemania)
Antje Stehn (Alemania)
Ahmed Al Mullah (Arabia Saudita)
Raed Aljishi (Arabia Saudita)
Ali Al Hazmi (Arabia Saudita)
Hamid Larbi (Argelia)
Amin Khan (Argelia)
Antonio Suárez (Argentina)
Gabo Sequeira (Argentina)
Emiliano del Río (Argentina)
Sabrina Usach (Argentina)
Moni Laneri (Argentina)
José Muchnick (Argentina)
Ana Navone (Argentina)
Ana Maidana (Argentina)
Daniel Freidemberg (Argentina)
Ciela Asad (Argentina)
Nigar Arif (Azerbaiyán)
Nargis Ismayilova (Azerbaiján)
Les Wickz (Australia)
Aminur Rahman (Bangladesh)
Germain Droogenbroodt (Bélgica)
Humberto Mello (Brasil)
Maria Alice Bragança (Brasil)
Mario Luis Ramírez (Bolivia)
Homero Carvalho (Bolivia)
Françoise Roy (Canadá)
Soledad Fariña (Chile)
Oscar Saavedra (Chile)
Rodrigo Verdugo (Chile)
Isabel Guerrero (Chile)
Cecilia Vicuña (Chile)
Carlos Cociña (Chile)
José María Memet (Chile)
César Hidalgo (Chile)
Jaime Svart (Chile)
Reinaldo Muñoz (Chile)
Sue Zhu (China)
Jami Proctor (China)
Mpesse Gerasldin (Camerún)
Dieunedort Fokoua (Camerún)
Hugo Jamioy (Colombia)
Gunnara Jamioy (Colombia)
Vito Apshana (Colombia)
Freddy Chicangana (Colombia)
Horacio Benavides (Colombia)
Lauren Mendinueta (Colombia)
Pedro Arturo Estrada (Colombia)
Andrés Jaramillo (Colombia)
Luz Helena Cordero (Colombia)
Yorlady Ruiz (Colombia)
Annabel Manjarres (Colombia)
Manuela Salinas (Colombia)
Lorena Zapata (Colombia)
Stefahany Rojas Wagner (Colombia)
Freddy Yezzed (Colombia)
Ashanti Dina Orozco (Colombia)
Yirama Castaño (Colombia)
Anna Francisca Rodas (Colombia)
Manuela Gónima (Colombia)
Ronald Cano (Colombia)
Julio César Arciniegas (Colombia)
Pedro Licona (Colombia)
Vanessa Torres (Colombia)
Saúl Gómez (Colombia)
Albeiro M. Guiral (Colombia)
Rómulo Bustos (Colombia)
Fernando Rendón (Colombia)
Gabriel Jaime Franco (Colombia)
Andrés Jaramillo (Colombia)
Jorge Torres Medina (Colombia)
Martín Cruz (Colombia)
Claudia Chaverra (Colombia)
Steven Anderson (Colombia)
Erik Bautista (Colombia)
Yeison Medina (Colombia)
Felipe García Quintero (Colombia)
Biófilo Panclasta (Colombia)
Luis Fernando Afanador (Colombia)
Jaime Londoño (Colombia)
Felipe López (Colombia)
Andrés Galeano (Colombia)
Jorge Marel (Colombia)
Luz Estella Mejía (Colombia)
Frank Pereira Hennessey (Colombia)
Alcy Zambrano (Colombia)
Javier Orlando Muñoz (Colombia)
Juan Camilo Betancur (Colombia)
Norberto Salinas (Costa Rica)
Sebastián Miranda Brenes (Costa Rica)
Liudmila Quincoses (Cuba)
Yenys Laura Prieto (Cuba)
Carmen González (Cuba)
Alex Fleites (Cuba)
Karel Leyva (Cuba)
Alex Pausides (Cuba)
Yuleisy Cruz Lezcano (Cuba)
Lucía Muñoz (Cuba)
Rito Ramón Arocha (Cuba)
Quito Nicholaas (Curazao)
Claus Ankersen (Dinamarca)
Erik Trigger (Dinamarca)
José Vásquez (Ecuador)
Deema Mahmood (Egipto)
Ashraf Aboul-Yazid Ashraf-Dali (Egipto)
Ruby McCan (Escocia)
Gerry Loose (Escocia)
Attila Balasz (Eslovaquia)
Barbara Pogacnik (Eslovenia)
Daniel de Culla (España)
Julio César Pavanetti (España/Uruguay)
Jack Hirschman, Agneta Falk (Estados Unidos)
Doug Anderson (Estados Unidos)
Scott Bird (Estados Unidos)
Kim Jensen (Estados Unidos)
Betty Gilmore (Estados Unidos)
Francis Combes (Francia)
Alice Sun-Cua (Filipinas)
Marra Lanot (Filipinas)
Nikolaos Vlahakis (Grecia)
Rosa Cháves (Guatemala)
Marvin García (Guatemala)
Jean Jacques Pierre (Haití)
Fabricio Estrada (Honduras)
Rati Saxena (India)
Debasish Parashar (India)
Prava Samantaray (India)
Biplab Majee (India)
Chandra Gurung (India)
Abdulhadi Sadoun (Irak)
Umar Timol (Islas Mauricio)
Steffano Strazzobosco (Italia)
Tiziana Cera (Italia)
Claudio Pozzani (Italia)
Paolo Agratti (Italia)
Romano Pascutto (Italia)
Malachi Dermot Smith (Jamaica)
Ibrahim Nasrallah (Jordania)
Rethabile Masilo (Lesoto)
Patricias Jabeh (Liberia)
Daniela Andonovska (Macedonia del Norte)
Abdellatif Laabi (Marruecos)
Khalil Raissoni (Marruecos)
Jalal El Hakmaoui (Marruecos)
Oulaya Drissi (Marruecos)
Nicole Cage (Martinica)
María Baranda (México)
Polo Castellanos (México)
Roberto Arismendi (México)
José Ángel Leyva (México)
George Reyes (México)
Andrea Campos (México)
Mario Licón Cabrera (México)
Rebeca Martell (México)
Althea Romeo Mark (Monserrate)
Amosse Mucavele (Mozambique)
Keamogetsi Joseph Molapong (Namibia)
Ron Ridell (Nueva Zelanda)
Ayo Ayoola (Nigeria)
Keshab Sigdel (Nepal)
Marije Langelaar (Países Bajos)
Hanan Awwad (Palestina)
Fakhry Ratrout (Palestina)
Sahar Mousa (Palestina)
Moisés Pascual (Panamá)
Luis La Hoz (Perú)
Enrique Sánchez Hernani (Perú)
Roger Santiváñez (Perú)
Willy Gómez Migliaro (Perú)
Emilio Martín Paz (Perú)
Dariusz Tomasz Lebioda (Polonia)
Luís Filipe Sarmento (Portugal)
Freddy Ñáñez (República Bolivariana de Venezuela)
Cecilia Todd (República Bolivariana de Venezuela)
Martha Doudiers (República Bolivariana de Venezuela)
Ana María Oviedo Palomares (República Bolivariana de Venezuela)
Marcelo Colo (República Bolivariana de Venezuela)
María Victoria Hernández (República Bolivariana de Venezuela)
Norys Nicoliello (República Bolivariana de Venezuela)
Bronislava Volkova (República Checa)
Chiqui Vicioso (República Dominicana)
Tomás Modesto Galán (República Dominicana)
Catalin-Mihai Stefan (Rumania)
Eldar Akhadov (Rusia)
Vadim Terekhin (Rusia)
Eduard Treskin (Rusia)
Lasana Sekou (San Martin)
Sivac Najthefer (Serbia)
Hussein Habash (Siria)
Malak Mustafá (Siria)
Bengt Berg (Suecia)
Vince Fasciani (Suiza)
Tarek Elyayeb (Sudán)
Pojjanan Poj (Tailandia)
Tahar Bekri (Túnez)
Moez Majed (Túnez)
Radwen Ajroudi (Túnez)
Alimi Mounir (Túnez)
Ataol Behramoglu (Turquía)
Nurduran Duman (Turquía)
Tugrul Tanyol (Turquía)
Tamer Oncul (Turquía)
Eduardo Espósito (Uruguay)
Marina Cultelli (Uruguay)
Aazam Obidov (Uzbekistán)
Nguyen Quang Thieu (Vietnam)