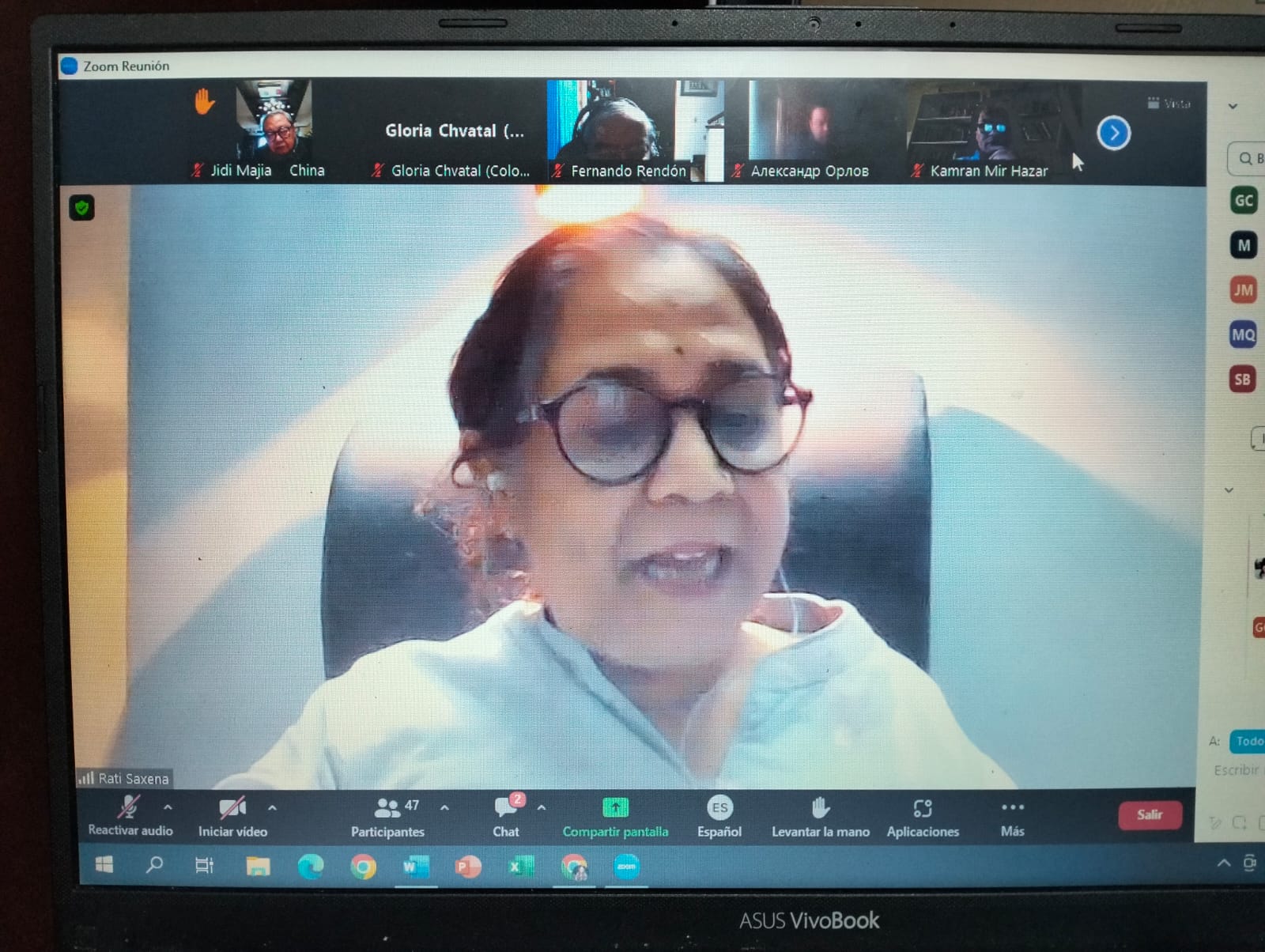 Delhi, 20th February, 2023
Rati Saxena: Asia Continental coordinator.
Respected dignitaries of Ministry of Venezuela, Dear General Coordinator of the World Poetry Movement poet Fernando Rendon; colleagues at the international coordinating committee; head of the preparatory committee of the WPM Congress; continental coordinators of Africa, America, and Europe; national coordinators of WPM from Asia and the delegates of this Congress.
Dear Poets, I take the honor on behalf of the WPM Asia Congress organizing team to welcome you all to this first historical meeting of Asian poets in the presence of cultural leaders from all the continents. I also take this opportunity to thank the Communication Ministry of Venezuela for providing technical support to organize this Congress through the virtual platform.
I am very thrilled to see the moto of the WPM Congress- "From Death to Life"
I belong to a philosophical country, where almost 3000 years ago Upanishad presents the same important  in a poetic manner-
असतो मा सद्गमय।
तमसो मा ज्योतिर्गमय।
मृत्योर्मामृतं गमय ॥
Which means- Lead me form evil into good and from darkness light/knowledge.and from death to Life.
From Thousands of years, poetry from every continent is leading us from Death to life, and this is out moto in modern time.
I express my utmost happiness to record the fact that when we organized the Asia national coordinators meeting for the first time on November 25, 2021, we only had coordinators in seven countries. By now, we have expanded our network to 29 countries, including India, Nepal, China, Russia, Saudi Arabia, Azerbaijan, Bangladesh, Cyprus, UAE, Hazaristan, Iran, Iraq, Japan, Jordan, Kazakhstan, Kirgizstan, Lebanon, Malaysia, Maldives, Oman, Pakistan, Palestine, Philippines, Sri Lanka, Syria, Tajikistan, Uzbekistan, Yemen, and Vietnam. We are yet to constitute national coordination in Magnolia, Singapore, Bhutan, Myanmar, Thailand, Laos, and Cambodia. We hope we will be a strong force to bring life and peace in this earth.
As we know, WPM World Congress calls the poets, poetry festivals, poetry foundations, and all humanists to return to profound thought and action for restoring peace and reconciliation.
WPM Asia was active for the time, it is formed and all coordinators from different countries are working to face the challenges in their own countries with poetic values.
Like a fantastic work was done by Abdukakhor Kosimov in Tajikistan, hundreds of the students participate in poetry festivals, and reading more than 250 books of prose and poetry, memorized more than 100 poems, 120 rubayats, at least 200 lines of dastan and so on, this is very interesting and important project I feel as mostly students are taking poetry as hobby and cutting off from tradition.
Nigar Hasan-Zadeh from Azerbaijan in talking about "SÖZ" ("Word" in translation). which is most successful literary projects in the country The project initiated the revival of the traditions of literary evenings and "pioneered" the introduction of new modern formats of literary evenings that combine literature, theater, music, cinema and new technologies.
China is a big country with huge number of poetry lovers and poetry creators. In August 2021 Jidi Majia organized the "Fighting Barriers ~The Poet Who Embraces the World—Commemorating and Tributing to Jack Hirschman" poetry reading in Beijing. Cao Shui: organized the Boao International Poetry Festival, the Silk Road International Poetry Festival, Sue Zu have selected poems from our WPM and got them published in a variety of media incl over 10 mainland Chinese magazines and newspapers, eg," World Poetic Circles" "Shanfeng" ''Yangzi River poetry newspaper" "The Poet" "poetic life"
World Poetry Movement was very much welcomed by the poets of Turkish and Greek speaking CYPRUS. Coordinator Nese Yasin organize two international poetry festivals. Fikret Demirağ Poetry Festival and Nicosia Poetry days along many other activities.
Kamran Mir Hazar from Hazaristan and Nahid Kabiri, from Iran are struggling for their own identity and they have used poetic ideology so well that we wish and pray for success.
Where some countries like Nepal, Pakistan, India are working on the guide lines of wpm for two years, like more than 100 poets from different languages in India not only joined WPM, but also, we organized more than 12 poetry evenings in different Indian languages for the theme- Earth is our home. Poetry for indigenous poets etc. We are also translating world poets in to Indian languages like Spanish, French and Russian to Marathi and Hindi as coming projects.
Our coordinator Keshab from Nepal organized poetry reading and also bought a book of poetry with wpm. Imadad Akash from Pakistan had organized two big poetry events in Pakistan and many young poets have joined the WPM.
Shirani Rajapakse (Sri Lanka) could make a bigger list of WPM members from (Sri Lanka).
Altynay TEMIROVA Kyrgyzstan has given a long report from his country.
All these coordinators will give a detailed report and great tradition of poetry.
There are countries, who are in darkness have different kind of struggle- as Kosiyat Rustamova from WPM Uzbekistan Report.
Lebanon is small country with many problems, still When Antoine Boulad shared the World Poetry Movement manifest with some Lebanese poets they could form a group (the group is already formed by 7 persons, 4 women and 3 men) , for such countries the moto of wpm is perfectly fit, as we have to go life from death.
Adel Khozam emphasis that Arabic poetry needs more communication with the peoples of the world.
With great humility and responsibility, I reiterate on behalf of the poets of the continent that we will take forward our humanitarian actions by utilizing the resource of poetry. We join the call for "Migration from Death to Life" to create the unity of poets and artists of the world to create hope for the people; we join the call to make our planet a safer place for all living beings; we join the call to ensure a just and liberated world; we join the call to share our responsibility to build and develop the organization in the continent; we join the call to consolidate our voice to make the essential change possible so that people of all class and creeds can live a dignified life.
I sincerely hope that the Asia Congress of the WPM will be a humble beginning toward a consolidated effort for positive action. I thank you all for your commitment, energy, and mobilization to act toward the realization of our shared dreams. I thank you for your unfailing faith in the power of poetry in envisioning a better world. I invite all the poets to make this Congress productive by sharing your profound thoughts and vision.
Thank you!