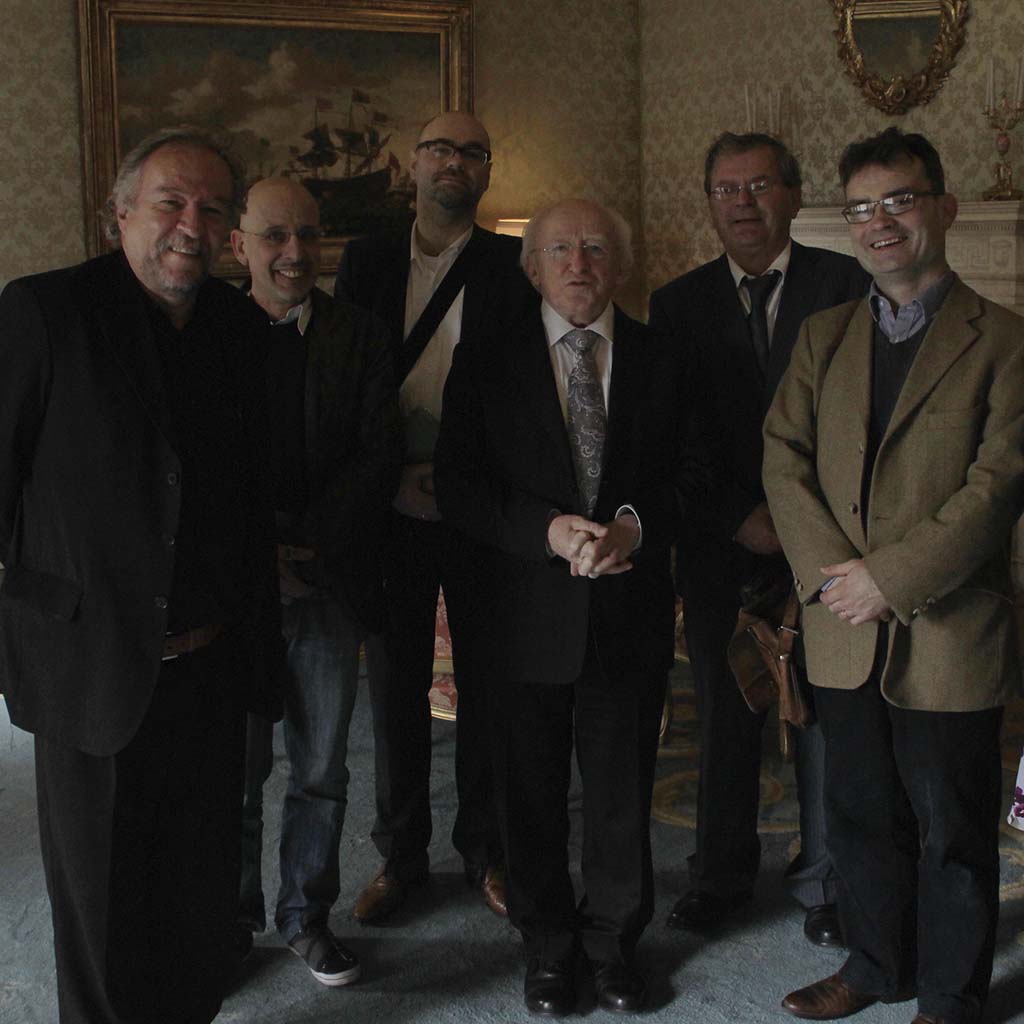 On 15 March, a delegation of WPM has interviewed for about 40 minutes with the Irish President Michael Higgins, at the Palace of Áras an Uachtaráin in Dublin. President Higgins welcomed the establishment of the World Poetry Movement and shared the goals and objectives contained in the WPM Strategic Plan, taking careful note of it. He suggested that he would accept our invitation to be patron of WPM, waiting for our official request. He expressed his wish to meet again with members of WPM during his tour over Brazil and Chile in the month of September. He invited a delegation of WPM to attend the opening ceremony of the President of Ireland in the European Union Council in January 2013 and offered to help in bringing closer the World Poetry Movement and the forums and various participatory models in Europe.
On March 22 there was an interview with Katérina Stenou, director of the Intersectoral Platform for a Culture of Peace and Nonviolence, attached to UNESCO in Paris on which we presented the nature and proposals of WPM. Mrs. Stenou explained that it is possible to establish mechanisms for mutual cooperation between UNESCO and WPM in areas where violence is prevalent as a wrong system for the resolution of interest conflicts.
Meet with President of Ireland Michael Higgings in Aras an Uachtaráin. From left to right Fernando Rendón, Lello Voce, Bas Kwakman, President Michael Higgings, Gabriel Rosenstock and Joseph Woods.
On March 27 it took place in Brussels the meeting with Androulla Vassiliou, Commissioner for Education, Culture, Multilingualism and Youth of the European Commission, and Cecilia Cave, Director of the Translation Department of the European Commission. The result of this meeting can be summarized in the clear possibility for making applications starting in 2014 in the creative program in Europe, the realization of programs of financial support for translations and teaching about poetry, WPM participation in a symposium on the role of art in contemporary society, within the framework of the European Union's Court in October.
Bilateral meetings were also held in Antwerp with Jan Vermassen, Head of Cultural Policy, Office of the Minister of Culture of Flanders; Michael Vandebril, chairman of the House of Literature in Antwerp and Brussels; and also with Geert van Istendael, Piet Joosten and Sigrid Bousset of the poetic collective Passa Porta, meetings in which we widely discussed vision and tasks of the World Poetry Movement and prospects of two-way cooperation with them.
From left to right: Bas Kwakman, Hatto Fischer, 
 

Fernando Rendón and Dino Siotis in front of the UNESCO headquarters in Paris.